Home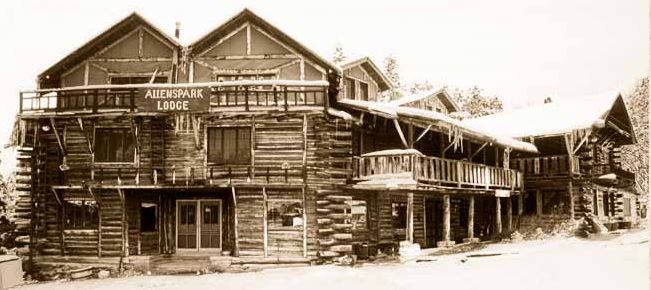 Allenspark Lodge is a polished rustic log lodge near Estes Park, Colorado. This mountain B&B, built early in the last century and nestled in a small, quiet village boasts comfortable rooms, warm hospitality, magnificent great room, video/rec room, and paperback library. A hot family-style breakfast is served every morning of your stay. There is a spacious room for meetings, receptions, and retreats.  A special seminar package is available.  We can accommodate small, intimate weddings.  Children 14 and over are welcome. We are near Rocky Mountain National Park, Roosevelt National Forest and Indian Peaks Wilderness!  Hiking and horseback riding at their best.   Come. Unplug. Unwind. Just be!!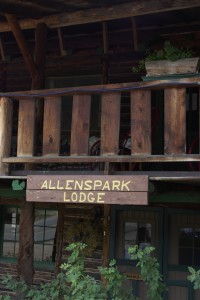 "If the essence and spirit of Colorado could be depicted by a lodge, this would be it!"  Dawn Mathis
All prices dbl occupancy; guests 14 years or older welcome. No pets.
"We are pleased to welcome you to our home. On December 15, 1997 we enthusiastically started the adventure of our dreams with the purchase of the Allenspark Lodge Bed & Breakfast. Together with our family, we invite you to retreat into our life for a while. Enjoy the fire, the crisp breeze, the sweet mountain air; read a good book or work a puzzle; wake up to the smell of bread baking and a hot breakfast. When it's all over, jot down a line or two in one of our journals, draw a picture, tell us a joke. Leave your legacy here for others to enjoy."   This is the first entry in all of our room journals; it's how the saga begins . .
Let's take a tour ….. First check in at the front desk.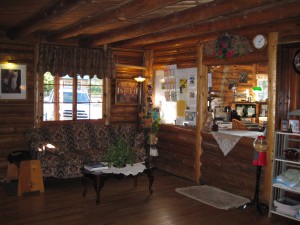 Now wander around the first floor – all space shared with all our guests.
We have a phone booth in one corner; a necessity as cell phones don't work up here.  Bill tells people, "someone stuck a mountain between us and the cell towers."
Phoenix (our white dove) lives in her palace under the staircase.
The chess set in the dining room is a huge hit; it keeps people entertained for hours.  We had a group of Japanese visitors a few years ago who saw the chess board, dropped their suitcases right there and started a chess challenge, before we even got to their rooms.  They could play so fast I had trouble keeping up with all the moves.  We all laughed a lot!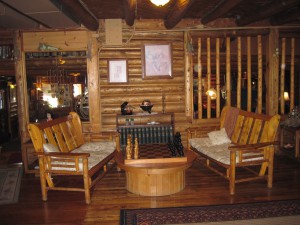 Next move on to the formal dining room.  It is set up to seat 30, so counting Bill and me, we can accommodate 28 guests at one time.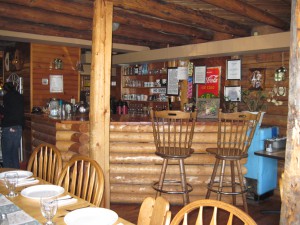 At one end of the dining room, there is a 'bar', where it is fun to sit and socialize with other guests – and hear lots of fun stories.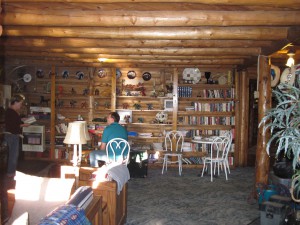 If you were to cross the Great Room to the other side of the Lodge, you  would be in the library.  This part of the lodge was a grocery store in the early days, so all the remaining shelves are filled with books, games, puzzles and other such paraphernalia such as Bill's dragon collection.  (It started out as gargoyles and sort of morphed into dragons.  If you look hard enough you can spot gargoyles, also.)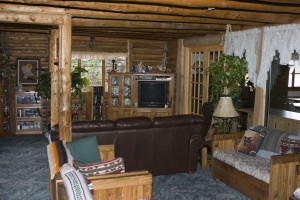 At the other end of this room is the Owl Cove.  We gave up television a few years before purchasing the lodge, but this is a great spot to enjoy those books or work on hand projects such as knitting or crocheting on a cold night or stormy afternoon!
Click on the "Rooms" tab to see more.
Contact Us
Allenspark Lodge B & B
184 State Hwy 7 Bus Rt/Main St.
PO Box 247
Allenspark CO 80510
phone: (303)747-2552
email: info@allensparklodge.com
Partly Cloudy

Windy with a mix of clouds and sun. High around 20F. Winds W at 25 to 40 mph. Winds could occasionally gust over 60 mph.

Partly Cloudy

Windy. Cloudy skies will become partly cloudy in the afternoon. A few flurries or snow showers possible. High 24F. Winds W at 25 to 35 mph.

Partly Cloudy

Sunny skies. Gusty winds in the morning. High 37F. Winds WSW at 20 to 30 mph.
___________________________________
Current Special
Stay 7 nights and get a 10% discount on your entire stay!
Come. Unplug. Unwind. Just be!