A Sad Good-Bye
We had to say a hard good-bye to a very old friend/worker on Monday.  We lost Phoenix, our white dove, during the night.  It was not totally unexpected; she had not been feeling well the last few days, but would perk up if I petted her or talked to her.  You could tell she was being stoic about it, as all wild animals are.  She was an 'elderly' bird, having given us lots of joy over the last 16 1/2 years.
We 'adopted' her, of sorts, in August of 1999, when some butterfly researchers in RMNP brought her into town, saying she would not have lasted the night in the forest, as she was obviously a domestic dove.  We always assumed she had been released for a wedding ceremony taking place there or some such thing, and had ignored the handler when they tried to pick up the released doves.  She came to us highly trained, but we opted to let her go with her preferred behavior and stay in her palace as we called her large cage.
Phoenix would entertain anyone who took the time to chat with her, cooing non-stop early morning and evenings.  It was a pleasant sound that echoed through the lower level of the lodge.  She even tried to mimic sounds, like the squeaky printer I used to have, or a combination of laughs when guests would get excited about something.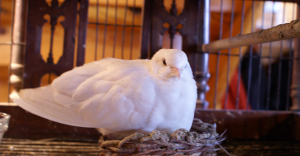 She gave mightily to the business, never shirking her duty as door greeter, and she will be dearly missed.  Rest in peace, our beloved Phoenix.  You certainly earned your keep!
Contact Us
Allenspark Lodge B & B
184 State Hwy 7 Bus Rt/Main St.
PO Box 247
Allenspark CO 80510
phone: (303)747-2552
email: info@allensparklodge.com
Mostly Cloudy

A mix of clouds and sun in the morning followed by cloudy skies during the afternoon. A stray shower or thunderstorm is possible. High 71F. Winds NE at 5 to 10 mph.

Chance of a Thunderstorm

Scattered showers and thunderstorms. High 71F. Winds ESE at 5 to 10 mph. Chance of rain 50%.

Partly Cloudy

Intervals of clouds and sunshine in the morning with more clouds for later in the day. A stray shower or thunderstorm is possible. High 77F. Winds N at 5 to 10 mph.
___________________________________
Current Special
Stay 7 nights and get a 10% discount on your entire stay!
Come. Unplug. Unwind. Just be!