About Us
When our kids were younger, Bill and I decided that "someday, when the kids are out of the house", we were going to buy a place in the mountains and get horses!  'Some day' finally came; the youngest of our four was almost finished with high school and we were 'done' with the computer world we worked and lived in.  We wanted a simpler way of life; slower pace, less stress, more outdoors.  We talked to a realtor in Estes Park, explaining we wanted something preferably made of log, the older, the better…  We didn't get to say much more as she got all excited.  "I've got the perfect place!!!"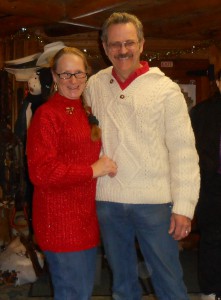 We walked into the lodge and fell in love instantly.  In December of 1997 we moved in.  Since it was a little 'large' for a single family home and we still needed an income, we made the choice to operate as a bed and breakfast – and had NO clue what we were doing.  As it turned out, we have totally loved the lifestyle, including getting to know people from all over the world, living in such a wonderland as the Colorado Rockies, and most of all – we got our horses – in December of 1999.
The Allenspark Lodge B&B is a historic structure built in the early '30's, by 15+ year old boys under the tutelage of their shop teacher.  It is constructed of Lodge-pole and Ponderosa pine from the standing dead of a forest fire.  The first 30 years it was the Isle Trading Post, boasting a restaurant, a grocery store, gas pumps, lodging (including 10 cabins) and a livery – and sat on many, many acres.  It is now over 80 years old and the cabins and livery have been sold to other parties, the big glass-topped gas pumps removed and much of the land is now Roosevelt National Forest.  The lodge structure itself has been used for lodging most of its life.  The restaurant portion is now our formal dining room and the grocery store area is our library and movie area; we call it the Owl Cove.   We have lived in the lodge for more than 19 years now, giving it the feel of 'coming home', and operate as a bed and breakfast year 'round.
The structure is beautiful, but we have become better known for our breakfasts!  We serve a full, hot, breakfast family-style.  When we ring the big, brass bell in the morning everyone in the lodge joins us in the formal dining room for a sumptuous breakfast consisting of an egg dish, meat, potatoes, homemade breads and fresh fruit in season, or homemade fruit cobblers – hot right out of the oven.  For those of you with special diets (such as gluten-free or a lactose intolerance), just let us know and we can accommodate you.  We have been told " If you leave the table hungry, you just weren't paying attention."
We have twelve rooms (all different) and a small apartment to choose from.  In the winter we have the fireplaces burning to warm you after your outdoor activities of hiking or snowshoeing – or enjoy the hot tub on our enclosed back porch, a movie or good book.  We have chosen to be an adult retreat, therefore, we do not take children; those folks 14 years or older are welcome.  We strive to take you back to a more relaxed time!  Lay down your cell phones or iPads and come join us.
Contact Us
Allenspark Lodge B & B
184 State Hwy 7 Bus Rt/Main St.
PO Box 247
Allenspark CO 80510
phone: (303)747-2552
email: info@allensparklodge.com
Partly Cloudy

A mix of clouds and sun. Gusty winds diminishing during the afternoon. High 27F. Winds W at 20 to 30 mph. Winds could occasionally gust over 40 mph.

Partly Cloudy

Some clouds in the morning will give way to mainly sunny skies for the afternoon. High 27F. Winds W at 10 to 20 mph.

Partly Cloudy

A few clouds from time to time. Gusty winds diminishing in the afternoon. High 38F. Winds W at 20 to 30 mph.
___________________________________
Current Special
Stay 7 nights and get a 10% discount on your entire stay!
Come. Unplug. Unwind. Just be!