Our Animals
REBA:  THE LODGE DOG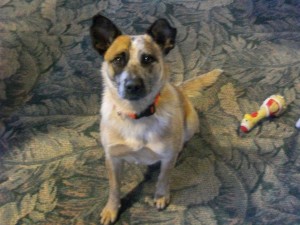 Reba is our newest adoptee.  She was acquired from one of the local Humane Societies on Feb. 5, 2015.  She had lots of specifications to meet before she could be considered.  You know, being a lodge dog is a very important job – so if you are not naturally social, happy, well-behaved – well, your job could be in peril.  We also personally wanted a mid-size (she's a tad smaller than we were hoping for, but nothing is perfect) female with enough hair that she did not need to be 'blanketed' to go outside, able to keep up with the horses when we go riding, … you get the idea.  She had big shoes to fill, too, because our previous dog had been pretty 'perfect'.
We have now had her long enough to know she is a keeper.  The guests have taken to her – to the point of offering to take her 'off our hands' if we chose not to keep her.  She is adapting to the lodge rules quite rapidly, although she can still have issues with wanting to lick your hand  or trying to steal your food.  Yes, she is a thief; leaving the trash baskets and things alone … until you leave the room.  But, she is getting better and she makes us laugh.  That's the best part of her job!
RANGER MUSTANG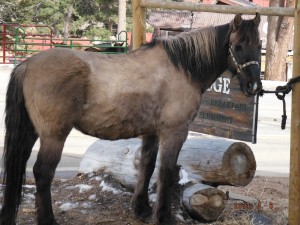 Ranger is a BLM Mustang from northern Nevada.   He had run wild for eight years, before being taken to the Canyon City Correctional Facilities in Colorado for training.  Having been deemed too old for training, he and Shadow (a nine year old) were sold to a wrangler from Estes Park, where they were allowed to run wild for another year.  He is one of the first two horses we purchased in December, 1999.   Being a '1990 Model', he is now 24 years old, Bill's best bud – and one of the best trail horses ever!  We have lots of 'training' stories; mostly how these two Mustangs trained us.
JESSE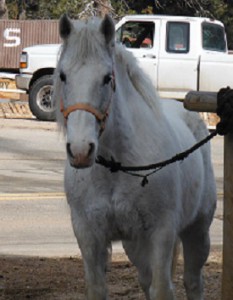 Shadow, our other BLM Mustang had a tragic accident in early April, 2001 and broke a leg.  For Mother's Day, Bill got me another horse; this time a five month old Mustang/draft cross filly from northwest Colorado.   She followed me everywhere and soon became known as "Juanita's big black and white dog"!  Being a true gray, she is now pure white and has been my best bud since.  She is all attitude, but I depend on her to keep us safe in the back-country.  We've covered a lot of miles together all across the U.S.!
WASHOE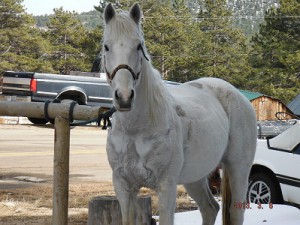 Washoe is a Mustang/Arab cross gelding from the northwest Colorado area.  In 2003, I purchased him from a neighbor when he was 18 months old and had a friend help start him.  He is listed as a blue roan, meaning another gray who has turned white, so I have a matched pair of white horses (hard to tell them apart), that I hope to teach to drive – someday.  He is our 'spare tire', or pack horse, whichever is needed when we are traveling.
PHOENIX:  THE DOVE
Phoenix is a white dove that we adopted in August of 1999.  She was found by some butterfly researchers in Rocky Mt. National Park.  One of the gentlemen had owned domestic birds and recognized that she would not be able to survive the night alone in the park.  He said she was following them, begging for food.  He put her in a bag and brought her to a leather shop we had in town at that time.  The owner of the shop knew us and that we had an empty cage occupying a spot in the Lodge.  He called and asked if we would adopt the bird.  She has been a bright spot in our lives ever since, and has laid several hundred – yes, hundred – eggs.  She does a lot of flirting with the bird in the mirror.
We lost Phoenix to old age on Mar. 21, 2016.  We had her wonderful voice and company for 16.5 years!
Contact Us
Allenspark Lodge B & B
184 State Hwy 7 Bus Rt/Main St.
PO Box 247
Allenspark CO 80510
phone: (303)747-2552
email: info@allensparklodge.com
Partly Cloudy

A mix of clouds and sun. Gusty winds diminishing during the afternoon. High 27F. Winds W at 20 to 30 mph. Winds could occasionally gust over 40 mph.

Partly Cloudy

Some clouds in the morning will give way to mainly sunny skies for the afternoon. High 27F. Winds W at 10 to 20 mph.

Partly Cloudy

A few clouds from time to time. Gusty winds diminishing in the afternoon. High 38F. Winds W at 20 to 30 mph.
___________________________________
Current Special
Stay 7 nights and get a 10% discount on your entire stay!
Come. Unplug. Unwind. Just be!