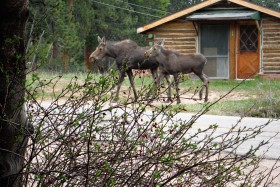 We used to have many elk sightings here at Allenspark Lodge;  in our backyard, across the road, sleeping next to the kitchen window . . .  You get the idea.  Over the last 4 – 5 years, the elk seem to have been replaced by moose.  I don't know if they don't like each other,
Wednesday, 23 March 2016
by Juanita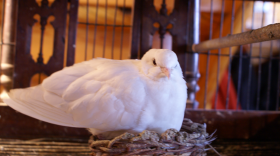 We had to say a hard good-bye to a very old friend/worker on Monday.  We lost Phoenix, our white dove, during the night.  It was not totally unexpected; she had not been feeling well the last few days, but would perk up if I petted her or talked to her.  You could tell she was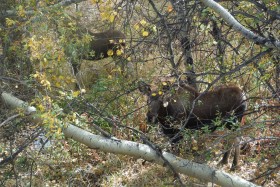 It's been a really, really busy summer – but we have enjoyed lots of animal sightings, and several in our own backyard.  About a month ago, I was going after Reba in the back, thinking she was chasing a rabbit.  The rabbit turned out to be a small black bear. A couple of weeks later,
Contact Us
Allenspark Lodge B & B
184 State Hwy 7 Bus Rt/Main St.
PO Box 247
Allenspark CO 80510
phone: (303)747-2552
email: info@allensparklodge.com
Partly Cloudy

A mix of clouds and sun. Gusty winds diminishing during the afternoon. High 27F. Winds W at 20 to 30 mph. Winds could occasionally gust over 40 mph.

Partly Cloudy

Some clouds in the morning will give way to mainly sunny skies for the afternoon. High 27F. Winds W at 10 to 20 mph.

Partly Cloudy

A few clouds from time to time. Gusty winds diminishing in the afternoon. High 38F. Winds W at 20 to 30 mph.
___________________________________
Current Special
Stay 7 nights and get a 10% discount on your entire stay!
Come. Unplug. Unwind. Just be!