Moose in the Backyard
It's been a really, really busy summer – but we have enjoyed lots of animal sightings, and several in our own backyard.  About a month ago, I was going after Reba in the back, thinking she was chasing a rabbit.  The rabbit turned out to be a small black bear.
A couple of weeks later, we had a family of moose early in the morning.  A lot of the guests got to see this set:  a bull, a cow and twins.  Well today, mom and the twins were back munching leaves on the neighbor's aspen trees about 10 feet beyond our garage.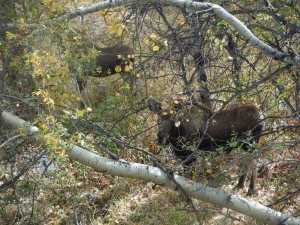 They had just scared the you-know-what out of Bill when he was putting attempting to put a broken dishwasher in the garage.  We climbed out onto a flat section of the roof to get this picture – because it is not safe to even think about getting this close to them.  They sure looked healthy and good, with lots of winter hair.  Each of these guys was about the size of Bill's horse.  Their mom was hidden in the bushes behind them.  To see a video of them, click here.
Contact Us
Allenspark Lodge B & B
184 State Hwy 7 Bus Rt/Main St.
PO Box 247
Allenspark CO 80510
phone: (303)747-2552
email: info@allensparklodge.com
Partly Cloudy

A mix of clouds and sun. Gusty winds diminishing during the afternoon. High 27F. Winds W at 20 to 30 mph. Winds could occasionally gust over 40 mph.

Partly Cloudy

Some clouds in the morning will give way to mainly sunny skies for the afternoon. High 27F. Winds W at 10 to 20 mph.

Partly Cloudy

A few clouds from time to time. Gusty winds diminishing in the afternoon. High 38F. Winds W at 20 to 30 mph.
___________________________________
Current Special
Stay 7 nights and get a 10% discount on your entire stay!
Come. Unplug. Unwind. Just be!