New Community Members?
We used to have many elk sightings here at Allenspark Lodge;  in our backyard, across the road, sleeping next to the kitchen window . . .  You get the idea.  Over the last 4 – 5 years, the elk seem to have been replaced by moose.  I don't know if they don't like each other, but now we see moose often – and elk only on the road into Estes Park.  Yesterday, as Bill was letting his horse Ranger start the summer lawn trimming, these two young moose decided to chat with him – Ranger, not Bill.  Ranger took offense and wanted to leave – now!  Good idea, but how fun to watch these two young'uns go by.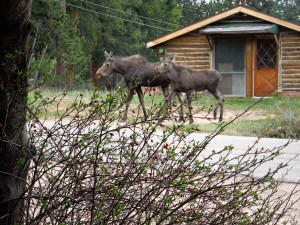 Contact Us
Allenspark Lodge B & B
184 State Hwy 7 Bus Rt/Main St.
PO Box 247
Allenspark CO 80510
phone: (303)747-2552
email: info@allensparklodge.com
Mostly Cloudy

A mix of clouds and sun in the morning followed by cloudy skies during the afternoon. A stray shower or thunderstorm is possible. High 71F. Winds NE at 5 to 10 mph.

Chance of a Thunderstorm

Scattered showers and thunderstorms. High 71F. Winds ESE at 5 to 10 mph. Chance of rain 50%.

Partly Cloudy

Intervals of clouds and sunshine in the morning with more clouds for later in the day. A stray shower or thunderstorm is possible. High 77F. Winds N at 5 to 10 mph.
___________________________________
Current Special
Stay 7 nights and get a 10% discount on your entire stay!
Come. Unplug. Unwind. Just be!