Powder Room (#16) $125
The antithesis of the Gunpowder Room, this room is all frills and lace, and is absolutely beautiful. Patty the Platypus sits upon the flowered quilt awaiting your arrival.  The grand view of Meeker Mountain and the added bath with a shower makes this a room that's hard to leave.  It's location on the third floor makes it one of our quieter rooms.
"Allenspark Lodge will go straight to the top of our "Real Roads, Real Food, Real People" list.  It is rare to find such authentic lodging and warm hospitality.  Thank you!"
"We've found a home away from home.  Comfortable room, great breakfasts, beautiful setting.  We love the little touches – fresh flowers, homemade cookies, and Sophie is the sweetest dog ever!" 
Call for availability!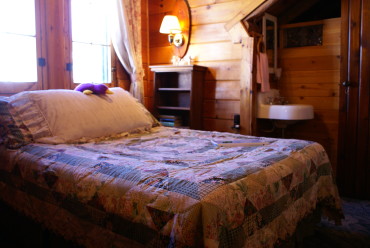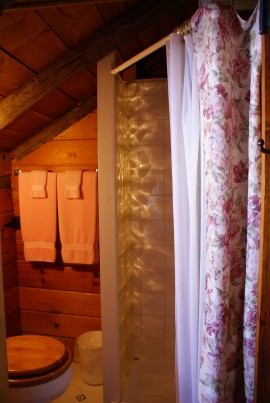 Powder Room Availability ... $125/nt
All prices double occupancy; guests 14 years or older welcome. No pets.
Book Now!
Call us at (303) 747-2552 with credit card information to reserve your dates.
Rooms Menu
We are an adult retreat; those 14 years old or over welcome. Exceptions made for whole lodge rentals.