Quilters
Just finished up a quilter's retreat and the beautiful pieces were astounding.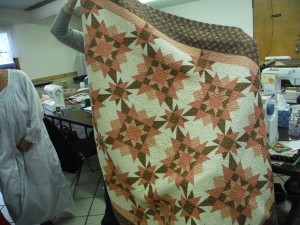 This was one of the more traditional ones.
It took a lot of sewing machines and ironing boards; with plenty of people doing lots of handwork such as embroidery and appliques.
Here are some more samples.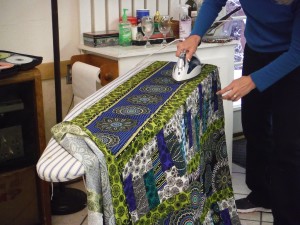 We are looking forward to seeing you back in the fall – and how much farther the projects have gone!
Juanita
Contact Us
Allenspark Lodge B & B
184 State Hwy 7 Bus Rt/Main St.
PO Box 247
Allenspark CO 80510
phone: (303)747-2552
email: info@allensparklodge.com
Partly Cloudy

A mix of clouds and sun. Gusty winds diminishing during the afternoon. High 27F. Winds W at 20 to 30 mph. Winds could occasionally gust over 40 mph.

Partly Cloudy

Some clouds in the morning will give way to mainly sunny skies for the afternoon. High 27F. Winds W at 10 to 20 mph.

Partly Cloudy

A few clouds from time to time. Gusty winds diminishing in the afternoon. High 38F. Winds W at 20 to 30 mph.
___________________________________
Current Special
Stay 7 nights and get a 10% discount on your entire stay!
Come. Unplug. Unwind. Just be!