Quilters
Just finished up a quilter's retreat and the beautiful pieces were astounding.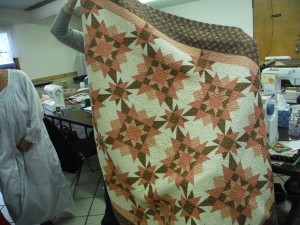 This was one of the more traditional ones.
It took a lot of sewing machines and ironing boards; with plenty of people doing lots of handwork such as embroidery and appliques.
Here are some more samples.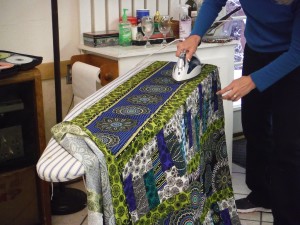 We are looking forward to seeing you back in the fall – and how much farther the projects have gone!
Juanita
Contact Us
Allenspark Lodge B & B
184 State Hwy 7 Bus Rt/Main St.
PO Box 247
Allenspark CO 80510
phone: (303)747-2552
email: info@allensparklodge.com
Snow

Snow and windy. Lows overnight in the low 30s.

Partly Cloudy

Some lingering morning flurries or snow showers. Cloudy skies early, followed by partial clearing. High 41F. Winds WNW at 10 to 15 mph.

Partly Cloudy

Windy. Cloudy skies will become partly cloudy in the afternoon. High 46F. Winds W at 20 to 30 mph.
___________________________________
Current Special
Stay 7 nights and get a 10% discount on your entire stay!
Come. Unplug. Unwind. Just be!