We Have ELK!
It's been a couple years since we have seen elk really close to the Lodge – or even in the vicinity.  Moose moved over from the western slope about the same time the elk started disappearing.  Don't get me wrong; moose are pretty majestic to look at, but not nearly as user-friendly, as in "never turn your back" on moose.  Elk sort of get used to the normal activities of an area and stay quite calm for pictures, etc.  However, we always school our guests on not approaching any wildlife; take pictures from a distance.  Cameras and phones have great zooming ability nowadays; use that!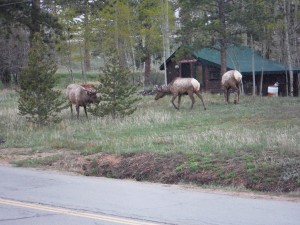 Imagine my surprise this morning when I looked out the office window and spotted three elk grazing in the yard right across the street.  Three young bulls – a new bachelor herd starting up.  Yes!  We had actually seen these guys yesterday across the main highway as we returned from a horseback ride, but I still had not expected them to come on down.
Contact Us
Allenspark Lodge B & B
184 State Hwy 7 Bus Rt/Main St.
PO Box 247
Allenspark CO 80510
phone: (303)747-2552
email: info@allensparklodge.com
Snow

Snow and windy. Lows overnight in the low 30s.

Partly Cloudy

Some lingering morning flurries or snow showers. Cloudy skies early, followed by partial clearing. High 41F. Winds WNW at 10 to 15 mph.

Partly Cloudy

Windy. Cloudy skies will become partly cloudy in the afternoon. High 46F. Winds W at 20 to 30 mph.
___________________________________
Current Special
Stay 7 nights and get a 10% discount on your entire stay!
Come. Unplug. Unwind. Just be!